It's that time of the year again. Black Friday is upon us and consumers around the world are plotting how to make the most of this crazy time. This is the one moment in the year where sales are abundant and if you're savvy, you can pick up some amazing products at prices that will never be repeated.
This is especially the case in the technology space where devices do tend to be rather expensive, but for Black Friday where you can find absolute bargains. It's the perfect opportunity to revamp or enhance your current setup, taking advantage of the discounts that are on offer. One of the product categories that has been causing a lot of buzz in this regard has been the 'dynamite in small package' devices – Mini PCs.
Mini PCs are small form factor computing devices that pack incredible specifications and great performance into a tight package. They have emerged out of a need for more flexibility, agility, and specific use cases that just weren't being served well by laptops and mobile devices. And while for years, they lagged behind the other devices in terms of performance – the modern versions are starting to really put their money where their mouth is. As a result, they have been touted as one of the most exciting developments in computer hardware and huge swaths of the technology industry are looking to them as a potential Black Friday investment.
But which Mini PC should you go for?
For us, the answer is quite clear. It's the Geekom Mini IT8.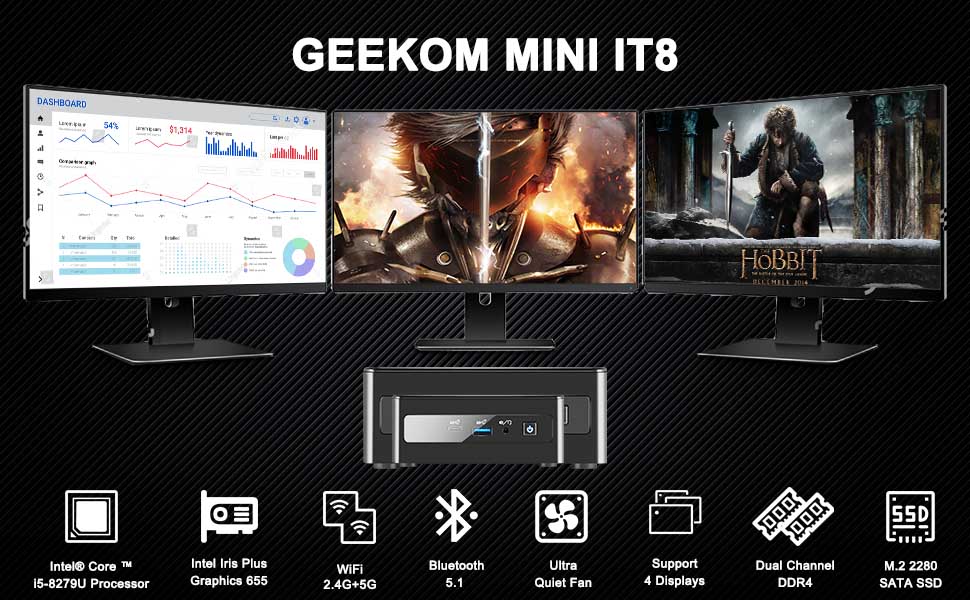 As far as Mini PCs go, this thing is a powerhouse. Boasting a powerful Intel Core i5 processor and the latest Windows 11 operating system, the Geekom Mini IT8 has the perfect foundation for you to build a custom computer setup for your specific needs. The device itself is small and light, making it easy to mount wherever would be most convenient for you in your home or your office. And when you do so, it seems to meld into the background, as all good technology does, leaving you to immerse yourself in the digital world that it creates.
From a memory perspective, it supports expansion up to 32GB of DDR4 memory which is amazing for something this small, and you can upgrade the storage all the way up to a 1TB SSD drive. This gives you all the space and memory that you need to tackle intensive tasks with ease – regardless of what you do. It's kind of crazy that the device can achieve this in such a small frame but that's the magic of how far this technology has come.
Excitingly, the IT8 can connect to 4 different external monitors and deliver crystal clear 4K displays without skipping a beat. This is hard to appreciate unless you see a master setup like this in action – because then you get a real sense of how extraordinary this device actually is. It acts as a central hub for all your computing activity, and it works flawlessly time and time again. Add to this its range of different ports and interface connections and you have a wildly flexible computing setup at your fingertips. Everything is plug-and-play. The only constraint here is your imagination. Get creative and you can build a unique setup that suits your needs precisely and it can completely transform your productivity.
You might think that all of this performance would require a premium price, but the IT8 manages to come in at an incredibly affordable price, even without the Black Friday discount. But of course, the reason you're here is to make the most of that once-in-a-lifetime discount.
So, Geekom is offering this flagship product starting at just $379 this Black Friday.
This is a significant saving on the standard retail price and it's our way of giving back to our wonderful customers who have stuck with us through the years. This deal is almost too good to be true and you just won't find a better option if you're looking to get a Mini PC this Black Friday.
So, what are you waiting for?
Get on it now, before it's too late!